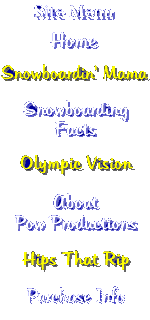 For more information about "Outlaws to Olympians" click here.
---
Includes:
Archive footage from snowboarding's early days.
Boarding pioneers Mike & Tina Basich, Tom Burt, Shawn Palmer, Damien Sanders, Chris & Monty Roach, Noah Salasnek, Andy Hetzel, Morgan Lafonte, Bev & Chris Sanders, Michelle Taggart & Jim Rippey.
Donner Ski Ranch, the first resort in the world to allow snowboarders, remembers the past.
Early footage of todays rulers: Abe Teter, Shawn White, Elena Hight, Ross Powers, Tara Dakides, Tricia Byrnes, Tyler Lapore, Shannon Dunn, Natasza Zurek, Rosey Fletcher, Chris Klug & more.
Pro riders' opinions on judging & snowboardings Olympic debut.
Halfpipe, big air, slopestyle, boardercross & racing competitions.
Locations in California, Colorado, Utah, Wyoming, Oregon, Idaho, Nevada, Washington, Vermont, Alaska, Canada & Italy.
The 1st Gathering of the Goddesses.
The 1st Boarding for Breast Cancer.
The Mt. Baker Banked Slalom.
The U.S. Open.
And much much more.
                                Buy Now with FREE SHIPPING:
             DVD with "OUTLAWS TO OLYMPIANS" and "HIPS THAT RIP"- $15.99
                         VHS Copies of "OUTLAWS" or "HIPS" - $1.99 each!!!