OLYMPIC VISION
Shooting "Outlaws to Olympians"





Daniel Franck - Norway

How would you like to spend the winter getting free lift tickets for the purpose of interviewing and photographing the worldís best snowboarders? Pow Productions did just that for their latest snowboarding video, "Outlaws to Olympians". The video covers potential Olympic medalists as they compete during the l997 season in hopes of representing their countries at the l998 Winter Olympics in Nagano, Japan. Riders like Terje Haakonsen, Todd Richards, Jimi Scott, Fabien Rohrer, Daniel Franck, Jim Rippey, Mike Basich and dozens of other top pros participated in halfpipe and Big Air contests while Pow Productionsí video crew recorded it all for "Outlaws to Olympians".

Producer and director Valerie Stewart says it was a thrill to watch the level of snowboarding talent that she encountered while shooting "Outlaws to Olympians". Ms. Stewart takes a particular interest in who will make the l998 Olympic teams, since she has been a snowboarding competitor herself. Valerie medaled at the USASA Nationals for 6 years. She received first place in Boardercross at the 2001 USASA Nationals at Mammoth. It was her experience as a competitor that inspired Valerie to produce her award winning "Hips That Rip" video, which features dozens of female boarders of all ages and abilities.
| | | |
| --- | --- | --- |
| Todd Richards (USA) | | When asked about memorable moments from the "Outlaws to Olympians" shoots, Valerie quickly replied, "Seeing Terje ride in person for the first time, hanging suspended over us in a gorgeous Pipe Dragoned halfpipe at the ISF World Championships. During a practice session Terje and another rider crashed in the air. Terje was unharmed, but the other rider got some nasty cuts on his face. I was reminded how unpredictable the outcome of the Olympics is since injuries can get in the way of the best athletes." |
"Outlaws to Olympians" includes some excellent archive footage of early pipes and contests, when Donner Ski Ranch in Northern California was one of the few resorts in the world that gave equal access to snowboarders. This archive footage shows primitive halfpipes ruled by pioneers and "outlaws" like Damien Sanders, Chris and Monty Roach, Noah Salasnek and Dave Seone. When Donner Ski Ranch had an anniversary party this season to celebrate the "good olí days", many boarding pioneers showed up with vintage boards to recreate the feeling of racing without edges and real bindings. The sun didnít shine that day but it was impossible to miss the neon dressed boarders who did. Bev Sanders, of Avalanche Snowboards ( who was the first to realize that snowboards didnít need fins) remembered a time "when everyone I knew rode an Avalanche". Tina Basich talked about the glory days at Donner, where she and Mike Basich started riding as young teenagers.
Shaun Palmer, a legendary rider, said he "probably wonít have time to train for the Olympics". According to Shaun, his energies are divided between BorderCross, BMX and his Palmer Snowboard Factory. But most established pros and up and coming riders agreed that competing in the Olympics is now their ultimate goal. The producer found there was a big difference in attitudes, however, "Some snowboarders train constantly - especially racers - but most freestylers say that being on the Olympic team is important but not crucial. Some riders felt that snowboarding is not ready for the Olympics and that medal status will take away the soul of snowboarding. Snowboarding will be changed by mainstream acceptance. And the sportís Olympic medalists may be changed even more, as they rise from cult heroes to international superstars." When Valerie asked dozens of world class athletes why they compete when the odds of making the Olympic team are so slim, most answered "I compete for fun, to ride in a perfect pipe, to see my friends and get pushed by the level of riding." If that attitude can prevail, the soul of snowboarding will remain intact.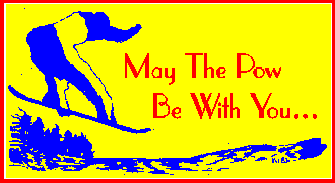 [HOME] [SNOWBOARDIN' MAMA] [SNOWBOARDING FACTS] [ABOUT THE COMPANY] [HIPS THAT RIP] [PURCHASE INFO]