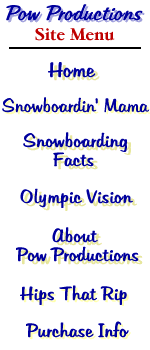 Snowboarding, once considered the domain of poorly dressed, rude and radical rebels, debuted as a medal sport at the 1998 Olympic games in Nagano, Japan.

Snowboarding ranks as the fastest growing sport in the world, with huge companies like American Express and Baby Gap using snowboarders as marketing tools. Transworld Snowboarding magazine called it "steroid like growth".



Fabien Rohrer (Switz.)
Time Magazine, in their "Triumph of Hated Snowboarders" article, points out that "once the lepers of the slopes, the grungy set is now saving the ski resorts". As skiing continues to lose participants, snowboarding has soared into an $800 million dollar a year industry. Or as Bill Adams, director of the Stowe, Vermont ski school sums it up, "Snowboarders have saved the industry's butt".
When AAA's conservative Motorland magazine featured a snowboarder on the cover of it's January l996 issue, it was clear evidence that snowboarding is here to stay. Jean-Karl Carpano, Product Manager for Rossignol, confirms that, "We see every other person on a snowboard by the year 2005".
Transworld Snowboarding Business' latest report shows the over 40 set as about 15% of the snowboarding population. The L.A. Times in a Lifestyle cover story, observed that, "Parents are signing up for snowboarding lessons with their kids, lest they be left behind".
Female participation in snowboarding is estimated at 25 percent by the Ski Industries of America. As the L.A. Times article points out, "The greatest focus this season may be on women. Snowboard equipment for women. Snowboard clothing for women. Snowboard camps for women".
The first video about female snowboarders, "Hips That Rip", was released by Pow Productions to fill a void in the coverage of women riders.
The Wall Street Journal is running full page ads selling computers with the "cool appeal" of snowboarders, and really what could be a better marriage? Snowboarders have been shown to have a high incidence of computer usage. It is beginning to seem that both computers and snowboards will be indispensable tools for the new millennium.