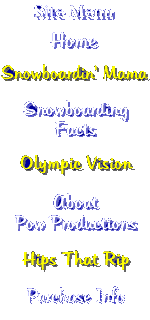 Pow Productions' latest snowboarding video, "OUTLAWS TO OLYMPIANS", received a prestigious Telly Award in the Sports Video category at the 20th Anniverary Telly Awards.

"Outlaws to Olympians" features dozens of world class snowboarders and five Olympic medalists. Riders include halfpipe and giant slalom contenders like Terje Haakonsen and silver medalist Daniel Franck (Norway); Jimi Scott, Rob Kingwill, Seth Neary, Ross Powers, Ian Spiro, Chris Klug and Adam Hostetter (USA); Mark Fawcett (Canada); Fabien Rohrer (Switzerland); and Aleksi Litovaara, Aleksi Vanninen, Pasi Voho, Aki Stolt & Sebu Kuhlburg (Finland); and many more.

Big Air greats include Kevin Jones, Mike Basich, Jim Rippey, Ryan Williams, Mike Beallo, Dave Lee, Nate Mott and Blaise Rosenthal.

Female competitors include bronze medalist Shannon Dunn (USA); silver medalist Stine Brun Kjeldass (Norway); Anita Schwaller (Switzerland); Satu Jarvela (Finland); Natasza Zurek (Canada); Sandra Farmand (Germany); Michele Taggart, Tina Basich, Barrett Christy, Tricia Byrnes, Carabeth Burnside, Betsy Shaw and Rosey Fletcher (USA).

"OUTLAWS TO OLYMPIANS" includes interviews with these world-class boarders talking about their goals, ideal halfpipes, judging, freestyle vs. racing, the Olympics, and more.

"Outlaws" also has killer archive footage of early pipes and contests, when Donner Ski Ranch in California was one of the few resorts in the world that gave equal access to snowboarders. This archive footage shows primitive halfpipes ruled by pioneers and "outlaws" like Damien Sanders, Chris & Monty Roach, Dave Seone, Jimmy Hallopoff, Noah Salasnek and Tucker Fransen.

"OUTLAWS TO OLYMPIANS" has a smokin' stereo soundtrack provided by Epic Records. Bands are Steve Vai, The Urge, Unwritten Law, Incubus, Michelene Impossible, Super Creep, The Darwins and Drone.

Video Sponsers are Switch, Flexible, Dryve, and Betty Rides. (Outlaws) Cover design was done by Animated Television at gregr@pacbell.net. Web Site design was done by Tassone Enterprises (www.TassoneEnt.com).

A subtitled version of "OUTLAWS TO OLYMPIANS" is selling well at Japanese sports, video, music and souvenir shops.

To learn more about this docu-vid, read Olympic Vision, a story about the making of "OUTLAWS TO OLYMPIANS".
---

Check out the first video about female snowboarders, "HIPS THAT RIP". Dozens of boarders ride and rap about the sport they just can't get enough of.



---